Douglas Machines has a full service machine shop. Here are some of the machining and manufacturing services we offer…
Automated milling and turning
Wire EDM (electrical discharge) machining
Computer-aided machining for more complex parts, including logos and text
Design and drafting assistance for prototyping parts
Parts made out of a wide variety of metals and plastics
Parts can be provided with a variety of finishes, including painted, blued, nickeled, anodized, and sand blasted
Hardening
Deburring/tumbling and polishing
3D Printing for prototyping of small parts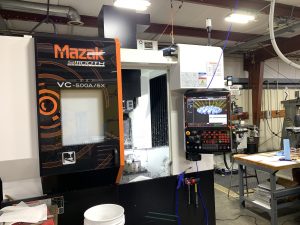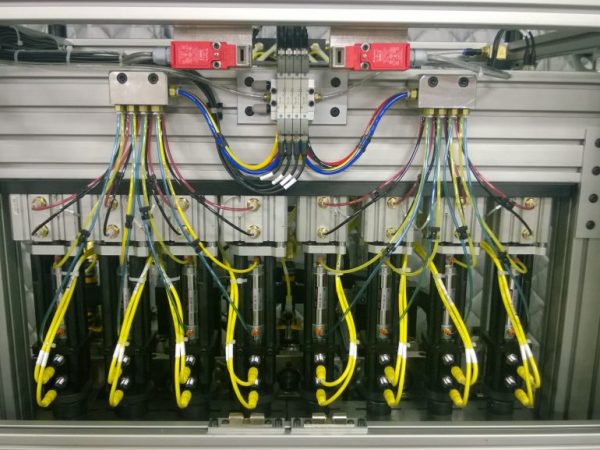 Have a part or assembly you need to manufacture, but can't find the right equipment? Let us design and build it for you. At Douglas Machines, this is what we're all about. We have over 20 years of experience helping customers in a number of industries:
Automotive
Marine
Power Distribution
Pharmaceutical
Science and medical
Fiber optics
If you already have an idea, or finished design, we would be happy to quote building to your specifications. At Douglas Machines, we enjoy a challenge and are happy to take a look at your application, no matter the industry. Here are some of the types of equipment we have built.
Robotic assembly cells
Robotic dispensing cells
Hydraulic assembly presses including parts fixturing
Servo presses for more precise press control
Assisted manual assembly machines
Automated bolt tightening with data collection
Gauge fixtures and vision systems
Smart bins to track assembly process
Custom leak test equipment and fixturing, including pressure decay and mass flow testing
Douglas Machines can provide PLC or computer based control systems depending on your needs. Need data collection and feedback to a database? No problem. With each machine delivery, we also provide complete source code for any PLC, PC, and HMI programs on your equipment to aid in future on-site changes and maintenance support. We also provide a full set of documentation including mechanical, electrical, pneumatic and hydraulic schematics, complete parts lists, and electronic copies of all programs. We can provide schematics in a wide variety of CAD formats, even in PDF for display right at the machine.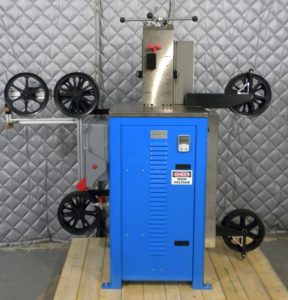 We have experience building a wide range of equipment and tooling for the transformer manufacturing industry, including coil winding machines and wire flattening stands.
Panel Building
We can build an electrical panel or control system to fit your needs, whether from scratch or refurbishing an existing panel. If you have an older piece of equipment that is becoming a nightmare to maintain, or looks like a rat has been nesting in the wiring, let us quote a new control system. We will provide an all new panel, or rebuild yours on-site and provide all finished control programs and brand new electrical schematics.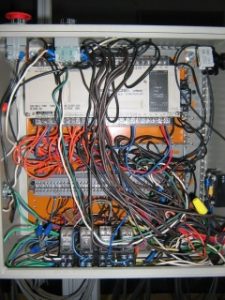 Mechanical Refurbishment
Have an older piece of equipment that is just worn out? Bearings shot, parts loose or missing, alignment gone? Let Douglas Machines rebuild it for you.
Controls Programming
Douglas Machines can also offer programming services on a wide array of PLC's, HMI's, and robots. If you already have the equipment, but need some programming changes that the OEM is either unwilling or unable to make, let us take a look. We also have experience writing control programs in VB, C++, and C# if you require PC based control.
Drafting
Douglas Machines can provide drafting services if you have a part you need drawn in CAD. We can provide paper and electronic copies in many formats.